I took a trip this past week. The river brings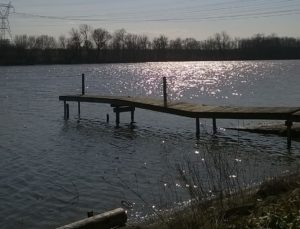 assorted treasure to my shoreline each spring as the snow melts away. This week, a long tree floated up and attached itself to my dock. I grabbed a shovel and walked out with my son. I gave the log a gentle nudge. It easily slid down the parallel line toward the end of the dock. It also easily moved away from the dock when I gave it a little push out. I realized a bit late that there was nothing holding me. Down went the shovel. And oops, down I went. I surfaced to my shout of my son's concern, spitting out a mouthful of water.
"That tasted better than I thought," I managed to quip around a cough.
He pulled off my glasses placed them off to the side and tried to pull me over the log, back up onto the dock. My flailing arms, trying to find a grip, gave my specs a good knock and they joined the shovel below.
I had a bit of a challenge getting my son to agree to let go of his hold on me so I could swim out on my own. Providentially, I had pulled on my winter coat as a bit of protection from the northern breeze, it puffed with air and was a good float.  
As I sloshed my way back up to the house, I was reminded how sometimes we have unexpected adventures. I'm sure I can use this as a warning to be more careful, and perhaps consider it a baptism for the next part of my journey. (insert chuckle here)
Lessons learned:
Things are replaceable. I lost a good pair of glasses and a shovel.
And what seems catastrophic can actually be amusing in the end. I knew I was fine the moment I surfaced… embarrassed, but fine. Heart hugs for my son who had lost his dad a year prior and had the shock of watching his mother drop off into the (not so) deep.
And learning new things: like how to care for my magnetic dock, that attracts all kinds of floating items, is challenging. So wisdom, like having someone near-by to pull you out of a jam, is imperative.
Well, keeping a good sense of humor helps too. After all, someone must take the first dip of the year.
Enjoy today's chuckle… all at my expense.
Blessings,
Debbie G
Today's wisdom brought to you by: Ecclesiastes 4:9-10
Two are better than one, because they have a good reward for their toil.  For if they fall, one will lift up his fellow. But woe to him who is alone when he falls and has not another to lift him up!