It's May! How did that happen? There are so many things I didn't get to do last year that I've been busy trying to cram them all into the last few weeks lest the world is tipped on its axis again.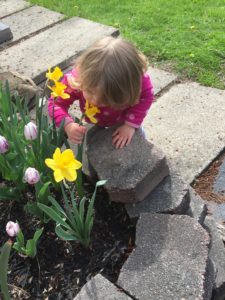 Have I enjoyed a soft ice cream cone? You bet!  Barbequed on the grill? Yup, a couple of times.  Eaten a meal on the patio? Of course. I cleaned  the yard from the dregs of winter weeks ago. And I have even made reservations for a  summer family gathering. (Deep sigh.)
There's something I've noticed, and perhaps you have too. People seem to be making an extra effort to connect. My elderly neighbor has stopped over to visit several times this week. Bumping into a friend at a store led to a half hour delay in my schedule as we caught up with one another. Plus I've had several text messages, and two phone calls this week from people I haven't spoken to in months. It is so revitalizing to connect with those you care deeply about.
My roses haven't bloomed yet, but some of my other flowers have, and I guess this is a reminder to take a break. Enjoy the beauty around you. Call a long-time friend. Visit a neighbor. Swing in a hammock. Listen to the bird's song or steal away and experience a sunrise. Let's appreciate the last days of spring  while we can. You know, if May is here already that September is just around the corner. The advantage of slowing our pace today is that it can bring us  memories to enjoy tomorrow. 
I found a bird's nest. How was your day?