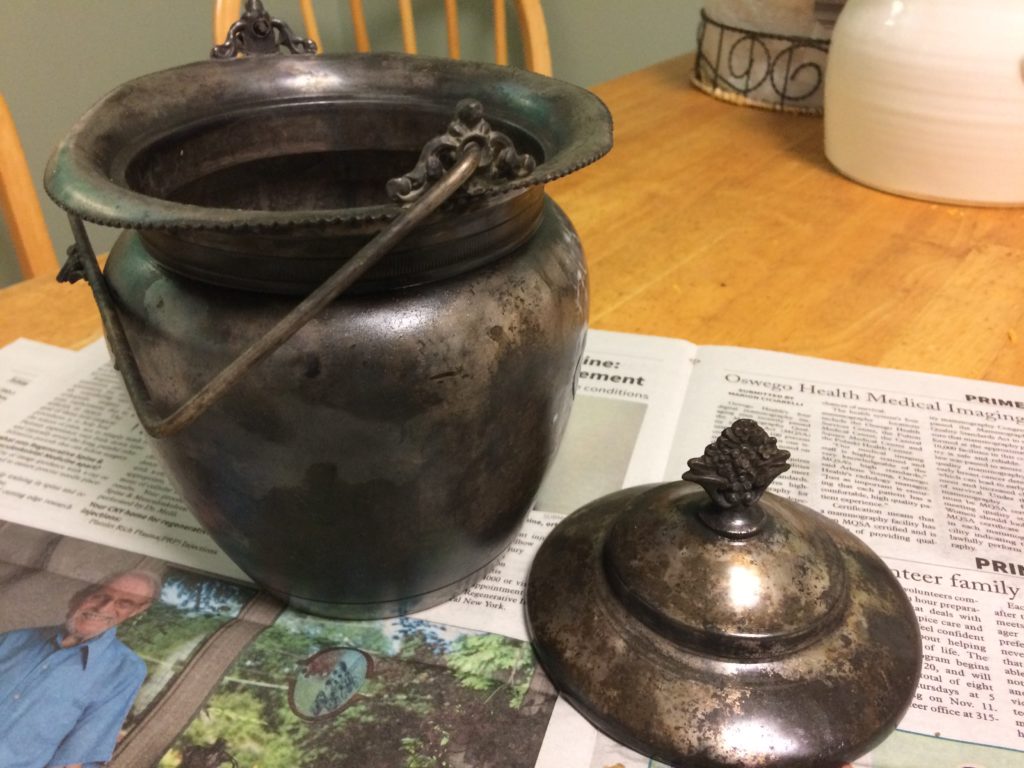 It was a silver pot, blackened by sulfur and tarnished by time. Someone had attempted to clean the old thing, so it had little collector's value. Its owner simply wanted to clear space in her home and when I asked about it she passed to me as a gift.
I loved the shape of the little container. Its bent handle that fit through an ornate embellishment added to its charm. The fitted lid boasted an intricate overflowing vase of flowers with which to lift the top from the container. But the most attractive feature to me was the word 'crackers' engraved in a wacky font across the front. The meaning of the word wasn't lost on me, and it certainly was a reflection of my life's journey. (Some people think I'm a bit nutty.)
In accepting this cast off I felt indebted to its proper restoration. After researching various silver cleaning methods, I began with what I had on hand, ketchup. The article stated that the acid from the tomatoes worked wonders. Sounded good to me. I took an old kitchen towel and piled on a gob of the red sweetness then left the slathered pot to marinate for two hours. I must say it did work to remove a bit of the black, and with a lot of rubbing some parts of the lid began to shine through the grime.
I moved on to another process calling for household ingredients. Unfortunately the baking soda and aluminum foil didn't fare as well, probably because of the previous cleaning.
I decided to give it last try. This time I went with a commercial silver cleaner which decidedly worked best. The pot cleaned up pretty well considering the condition I found it in. However, my arms ached from the deep polishing needed to achieve a semi-clean container where the word crackers was barely visible.
At this point I consulted a friend who was familiar with silver cleaning, and she said, "You'll never get it all off. Just look at the pits on there." Tiny pinhole-sized indentations covered my cracker jug. Apparently, this was normal due to its use and age. Considering that this project had already cost me hours of time and that it would never be use it to hold crackers, I gave up. This would be a conversation piece, and perhaps used as a vase for dried flowers. Even in its imperfect, mottled state, I still liked the little jug. Its pitting gave it character, speaking to its long and arduous journey. Its mere existence a testimony to strength and fortitude.
I am reminded that our lives are much like that little silver jar. Life's adventures can enhance or mar our surface, but the testimony of our strength is in getting up each day and being willing to shine amid our imperfections.
I proudly display my silver cracker jar hoping to be asked its history. My simple answer is that it's a treasured heirloom like me.                                   As are you, my friend.                                                                                                    <3 Debbie