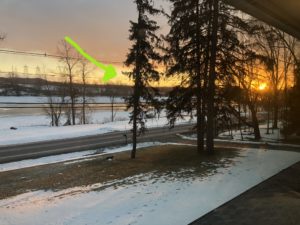 The thin pine swayed and bent in the violent wind gusts pushing her against cluster of fir trees behind her. She was fully exposed to all the elements now that her diseased southern neighbor had been removed months prior. She looked so weak and alone. I thought she might snap from the pressure. I watched spellbound, scarcely breathing, until she bounced back aright after each harsh blow. On one side her branches were stunted from their years in the shadow her neighbor had cast. Now, off-balance and without protection her handicap evident as she tipped.
Suddenly, I realized why I was so concerned about this tree's ability to survive through this raging storm; we were fighting similar battles. I too had lost my front man, my covering. The death of my husband a few weeks prior, and the challenges of this past week had me leaning heavily on my spiritual family.
I found myself staring out my window, rooting for her, as she bobbed back and forth throughout the day. So grateful for the strength of those behind her preventing her from a fall. I was sure those trees were the primary reason she didn't break. What a relief it was when the wind finally eased to see that she was still standing.
As I closed my shades for the night I thought ahead to the coming spring. Surely sunlight would help her stunted side to grow even again, giving her better balance. Like me, she needed to lean a bit now, but would soon grow strong again. Perhaps even someday becoming a sturdy buffer for those who were now supporting her.
Storms are meant to challenge us, to grow us, in new directions. This tree's struggle brought an awareness of just how important support people are in one's hour of need. I'm sure if the tree could speak, she'd add her thanks to her fellow fir trees for the strength of their entwined roots; and an encouragement for people everywhere to rise up and stretch out to the hurt and needy with hands of love.
A side note: I'm so glad to be back in my writing chair.
Blessings always, my friend.
Debbie
 2 Corinthians 1:3-4